Altruism: the best response to the suffering of our times
The Sussex Mindfulness Centre is holding a talk by the man dubbed the happiest person in the world. Writer, humanitarian and Buddhist monk, Matthieu Ricard discusses how altruism can be the best response to the suffering of our times.
Matthieu Ricard has closely collaborated with neuroscience research on the short- and long-term effects of mind training on the brain, the immune system and our base line level of wellbeing. He is author of over 20 books, including "Altruism: The Power of Compassion to Change Yourself and the World". The dialogue with his father in "The Monk and the Philosopher" was a best-seller in Europe and was translated into 21 languages, and "Altruism: How compassion can change your life and the world," to which he devoted five continuous years of research.
More about Matthieu Ricard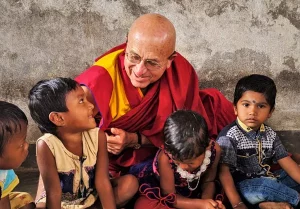 He is the son of the late Jean-François Revel, a renowned French philosopher and Yahne le Toumelin, an abstract painter and Tibetan Buddhist nun. He received a PhD degree in cell genetics from the Pasteur Institute in 1972 after which he practised with some of the greatest Tibetan Buddhist masters of the twentieth century, living mainly in the Himalayas for half a century, including a total of 5 years in solitary meditation in various hermitages.
Matthieu Ricard received the French National Order of Merit and the Legion of Honour, the highest French decoration, for his humanitarian work in the East with Karuna-Shechen, the non-profit organization he co-founded in 2000, which now helps over 400,000 people every year, and to which he dedicated the totality of the royalties of his books. Fifty per cent of the proceeds of this talk will also go to support Karuna-Sechen. Since 1989, he has acted as the French interpreter for the 14th Dalai Lama. He has been a Board member of the Mind and Life Institute which is devoted to collaborations between scientists, Buddhist scholars and meditators, led by His Holiness the Dalia Lama. He has spoken at many international forums, including the World Happiness Forum, the United Nations, The World Government Summit and Les Journées Émergences.
Ticket prices
General voluntary admission is £12.00, or pay what you can by selecting the 'free' ticket option and adding a donation. Thank you.